Looking down: The difficulties of being tall
Reinhard Radkes column on African Wildlife
With their long necks (which incidentally, exactly like humans and all other mammals, have only seven vertebrae) they explore an ecological niche which they share only with elephants; they can browse the leaves from trees between two to nearly six meters above the ground (the top 1,5 meters are reserved for the males).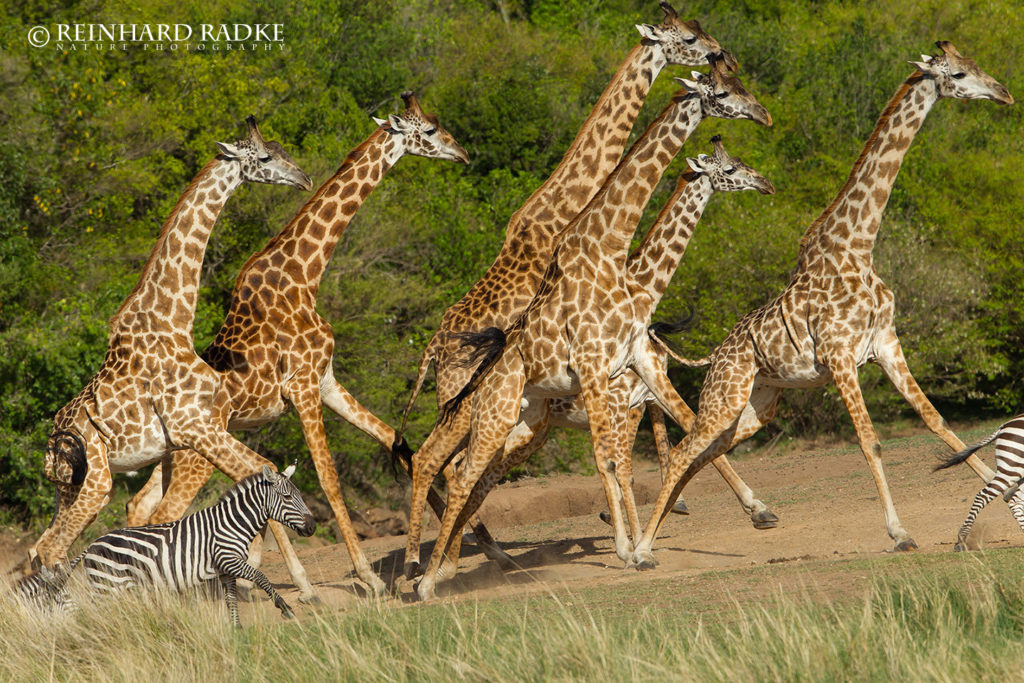 However, this privilege has been dearly bought. A giraffe's heart lies two meters above ground level and it must pump the blood another three meters higher to the brain. To withstand the resulting high pressure in their lower blood vessels their legs possess special "cuffs" of very strong skin. To supply the brain, the heart must provide about twice the blood pressure of a large antelope. In addition, a sophisticated system of valves in the blood vessels of the neck is needed. This prevents blood from surging into the brain when the head is lowered.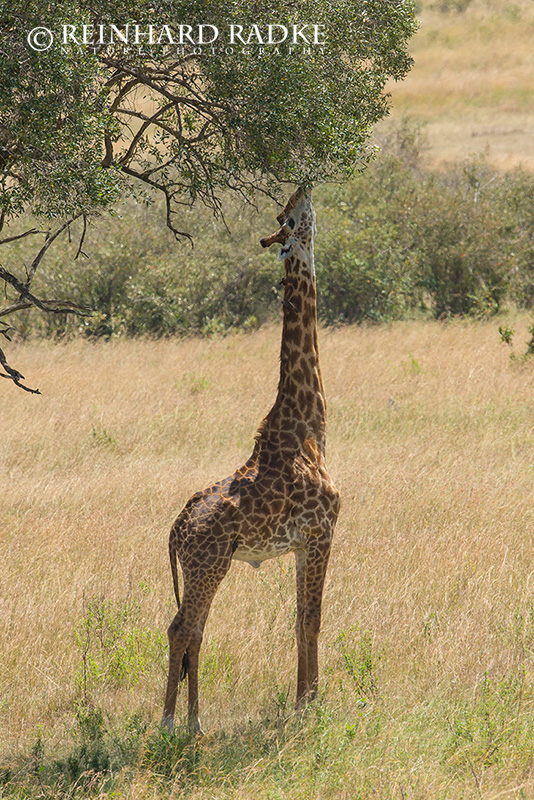 Their long windpipe prevents good ventilation of the lungs; therefore, they must breathe more often. Their respiration rate is almost twice as fast as ours. The long nerve fibers prevent quick reflexes and the leverage relationships of legs and neck require carefully balanced movements. For these reasons, rapid compensation reactions are not possible. It is no wonder then, that they always seem to move in slow motion. Giraffes display this clearly when crossing a river, very carefully feeling their way with their hooves step-by-step over the invisible bottom, so as not to stumble. At least they have no need to hurry, as they have nothing to fear from crocodiles.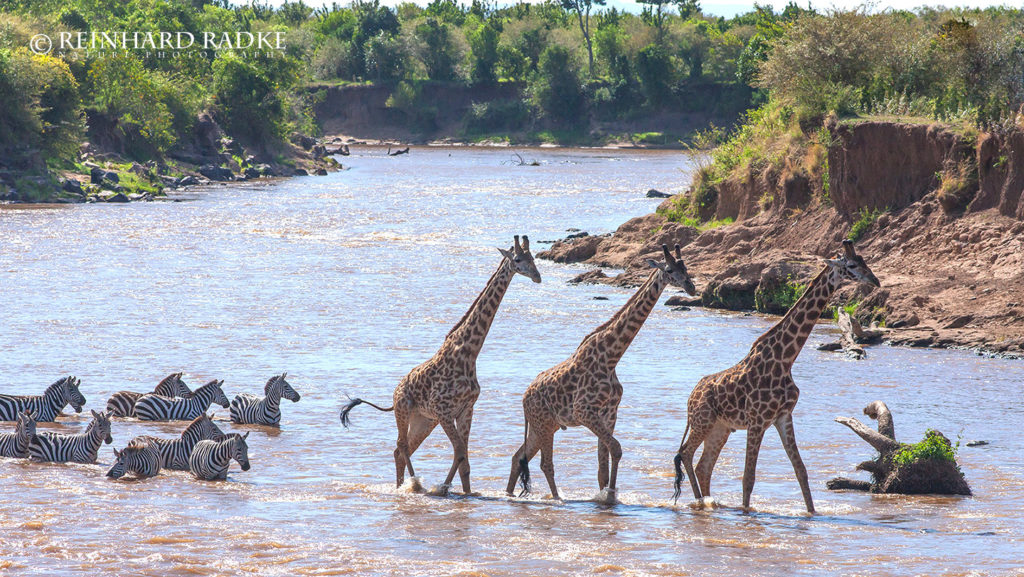 Under these conditions, it is dangerous for males to engage in fierce battles. With progressing age, their skulls become massively ossified, until they resemble heavy clubs which they swing at their rivals. The resulting fluctuation in blood pressure in the brain can sometimes be enough to incapacitate an animal; massive blows can cause broken bones. Older males seldom fight; one mainly sees the skirmishing of younger animals (females have not been seen fighting so far). Over a period of years, these duels form hierarchies, which control access to mating partners. Only when alien, older males confront each other dangerous battles might develop.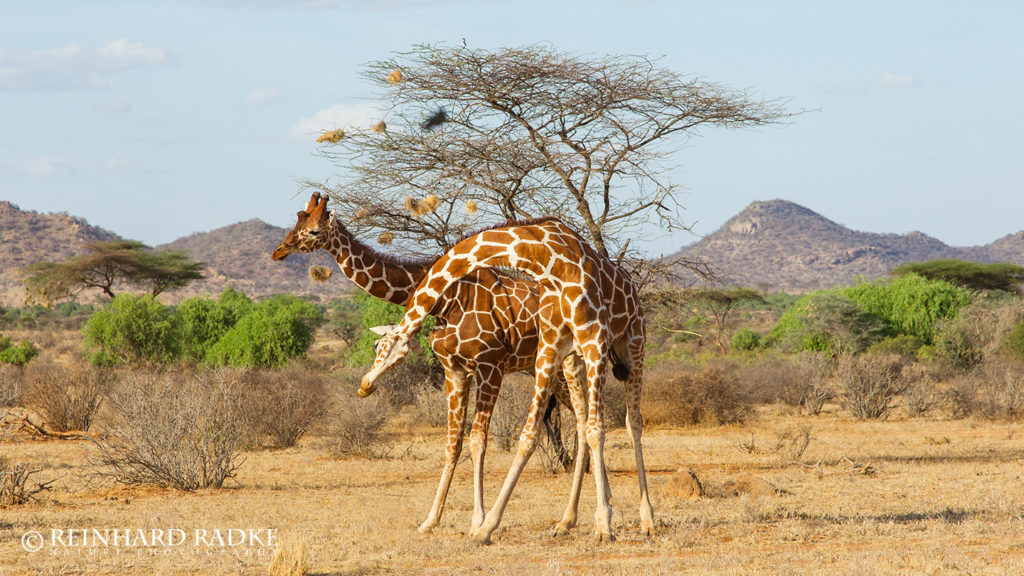 In the past, giraffes were found everywhere in Africa where there were trees. Their fur patterns vary regionally and they were used to separate up to eight subspecies. Recent genetic studies indicate, that there are four to eight species. Giraffes do not form herds, rather only groups that seldom stay together longer than a few hours or days. The single lasting bond is between mothers and calves. Often mothers with their young will leave the groups and sometimes may form a regular "kindergarten". Here several females will alternately watch over the young. Mothers will defend their calves against hyenas and lions with energetic kicks, but more than half of them will not survive their first year.
In the Serengeti, giraffes have home ranges of up to 600 square kilometers. The males are often on the go. They are constantly on the lookout for females in heat and mainly travel alone. This can be risky, as lions certainly do attack giraffes, whereby lone animals are especially endangered. For this reason, males are more often killed, thus in most areas about double the number of females as males exist.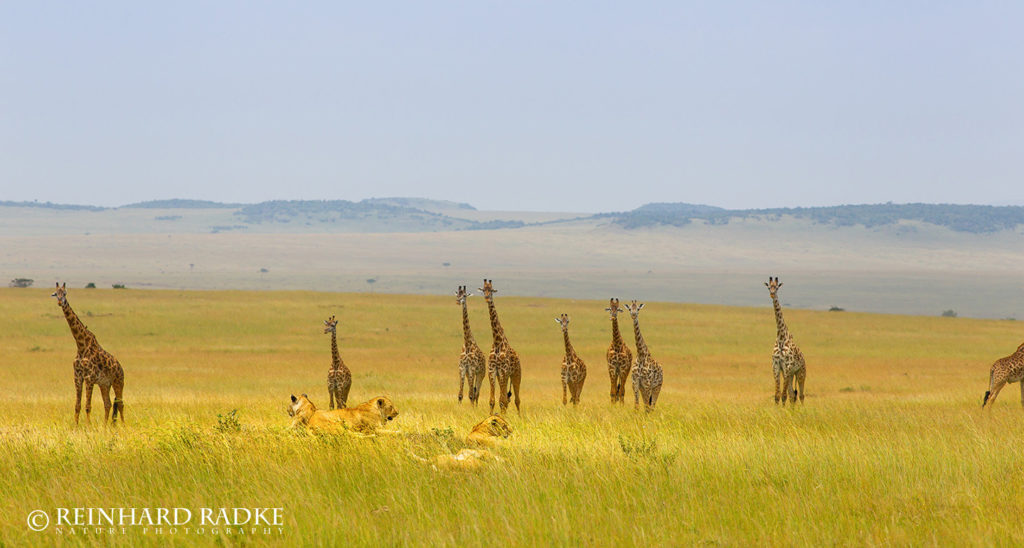 Mehr zum Thema Studytours und Buchung