Bold opportunists: Jackals
Reinhard Radkes column on African wildlife
The bad reputation of jackals is one of the standard clichés in wildlife, as they are usually seen as living on carrion and leftovers from waste dumps. No doubt, they are surely successful in that business and take what they can get. However, this bears a lot of risks, and you need nerves of steel and very quick reactions to get along. In the turmoil of a dozen of vultures, hyaenas or lions at a kill it needs some skills to keep rivals at bay and snatch a bite from under the nose of a big predator. Any mistake can be fatal, as carnivores don't give pardon to any competitor.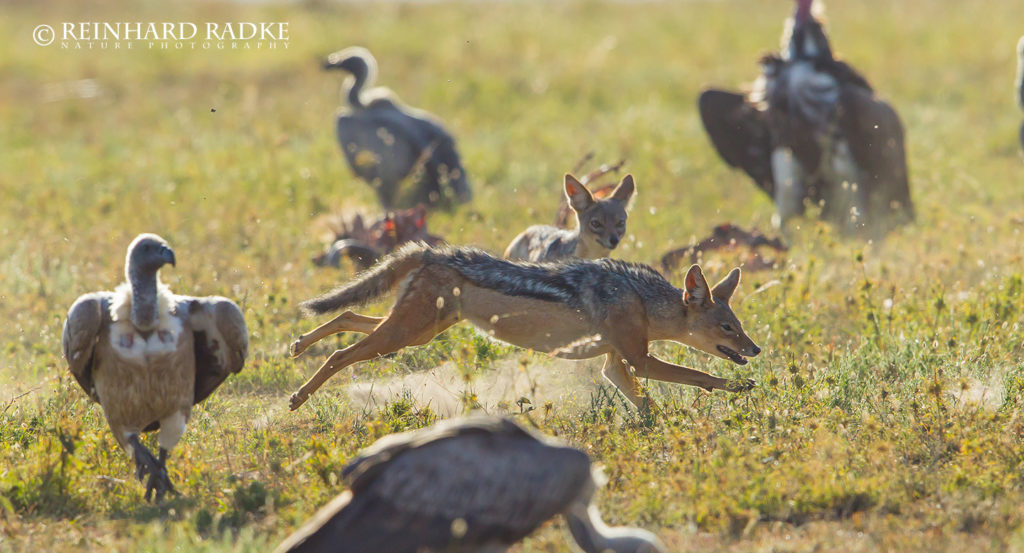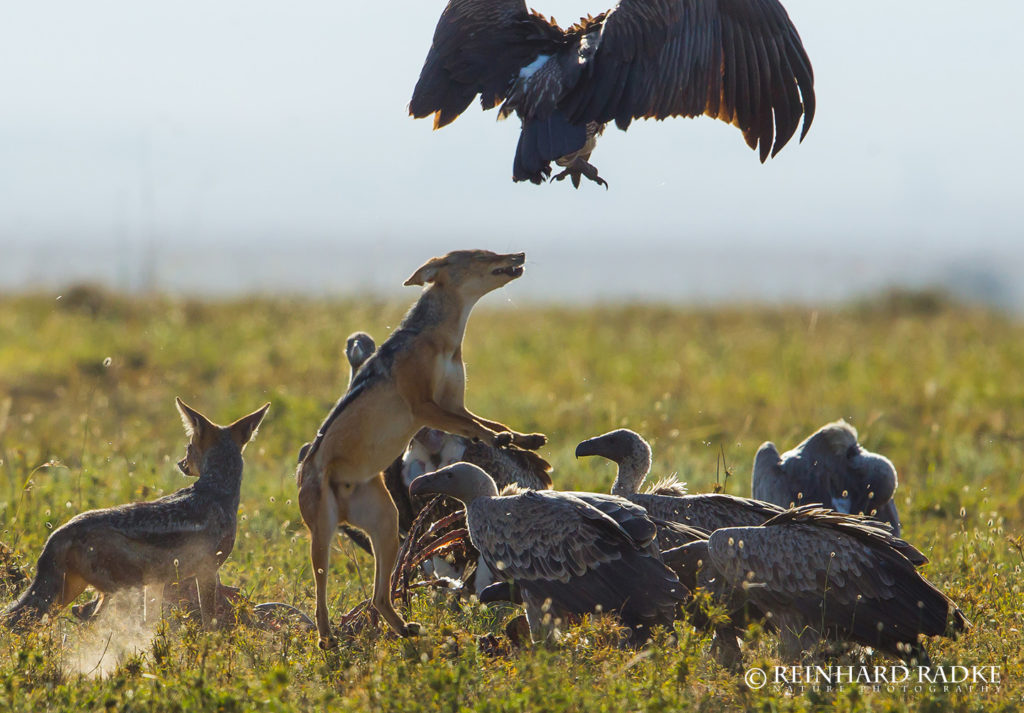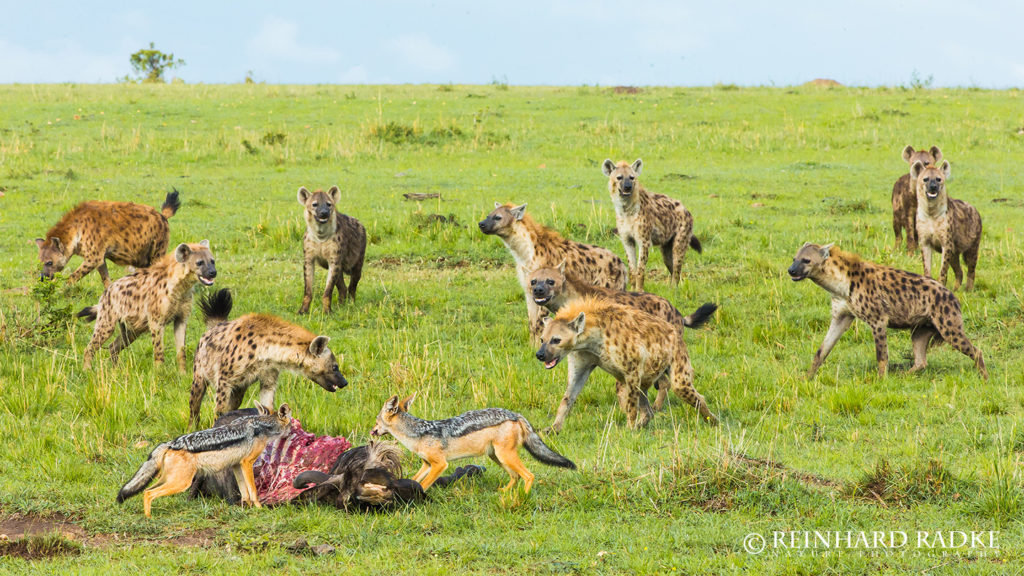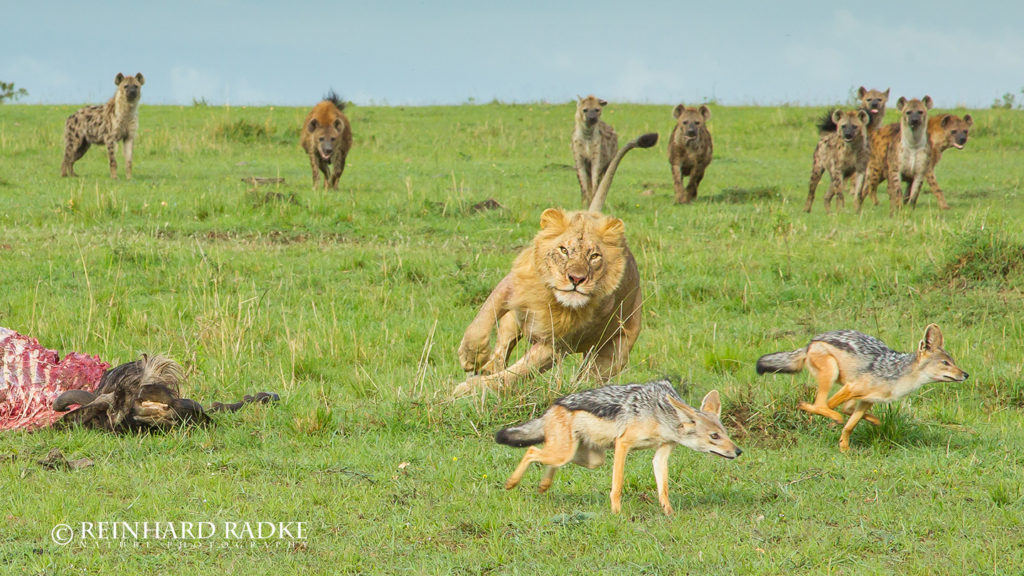 Indeed, sometimes black-backed jackals follow cheetahs, lions or hyaenas to wait for them making a kill to participate on the leftovers. In the case of cheetahs this strategy can back fire: the fast cats are easily capable of running down a jackal, when they feel molested. Young cheetahs, too, make a sport of chasing jackals which came too close. Luckily for the jackals they usually are satisfied with some running and good bashing. When a desperate canid is ready to fight to the end, the beginners usually shy away from such confrontations – and adult cheetahs in most cases don't waste much energy on them and leave them alone, anyway. But there are cases, where jackals have been killed by cheetahs.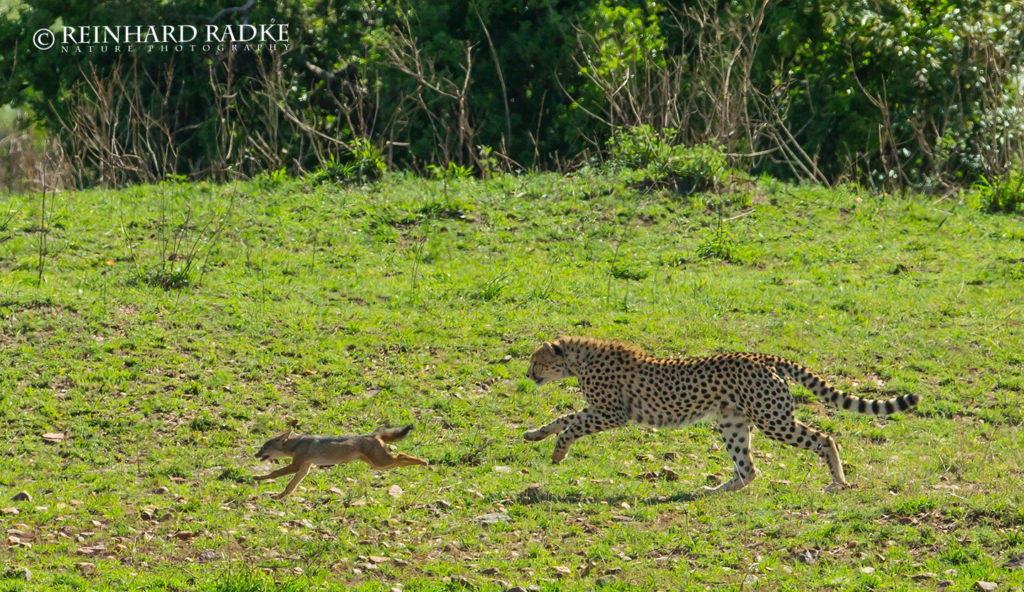 However, the clear majority of jackal food is bravely self-earned. In African national parks, it was estimated that only six to ten percent of jackal food is carrion. They have a wide spectrum of food items, from berries and fruit to insects, birds, hares, and even young gazelles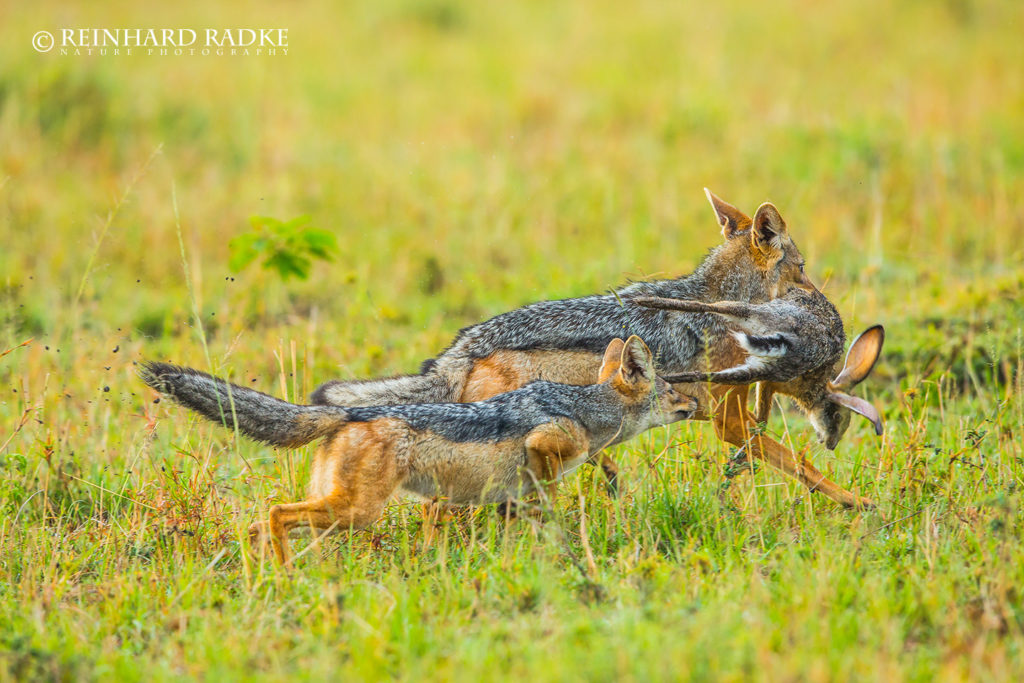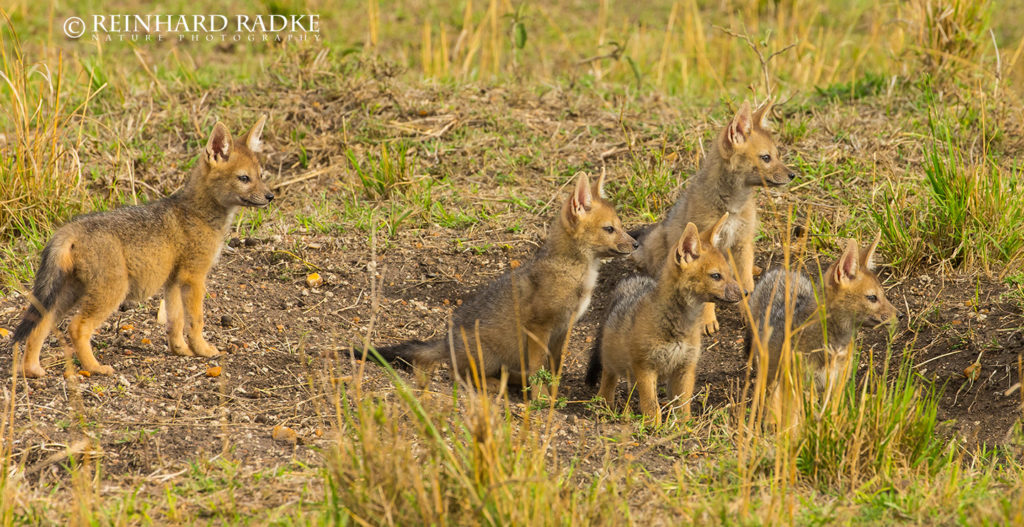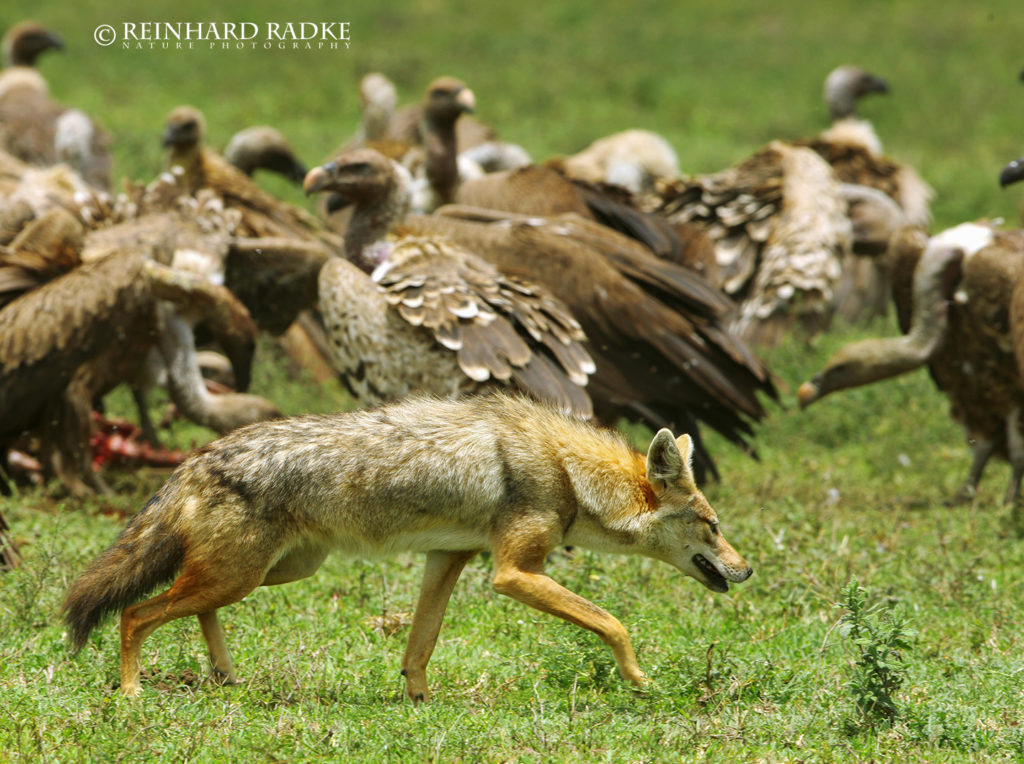 There are three jackal species: Black-backed, side-striped, and golden jackal. The latter originates from Eurasia and still occurs in southern Europe and far into southeast Asia. They are adapted to semi-arid and dry environments, with little need for water. In Africa, they utilize the north with the Serengeti as their most southern range. Common jackals are rarely seen in the Mara. The side-striped jackal originates from Africa. It needs more water and is found only in moister savannah with some bush and along the edges of forests. In Africa, it is the jackal with the biggest range: All the Sahel zone close to the central African forests, and southern Africa, except the deserts. Nevertheless, it is rarely seen, as it is mainly nocturnal. Black-backed jackals on the other hand are the archetypical "acacia-savannah" jackals, occupying most of east and south Africa. All jackals have a similar diet. They are omnivorous, eating everything from fruits and insects to small mammals, carrion, and organic waste. On condition, that there is enough food in the territory, young of all species stay with their parents for another year and help raising the next litter, before they go about their own families.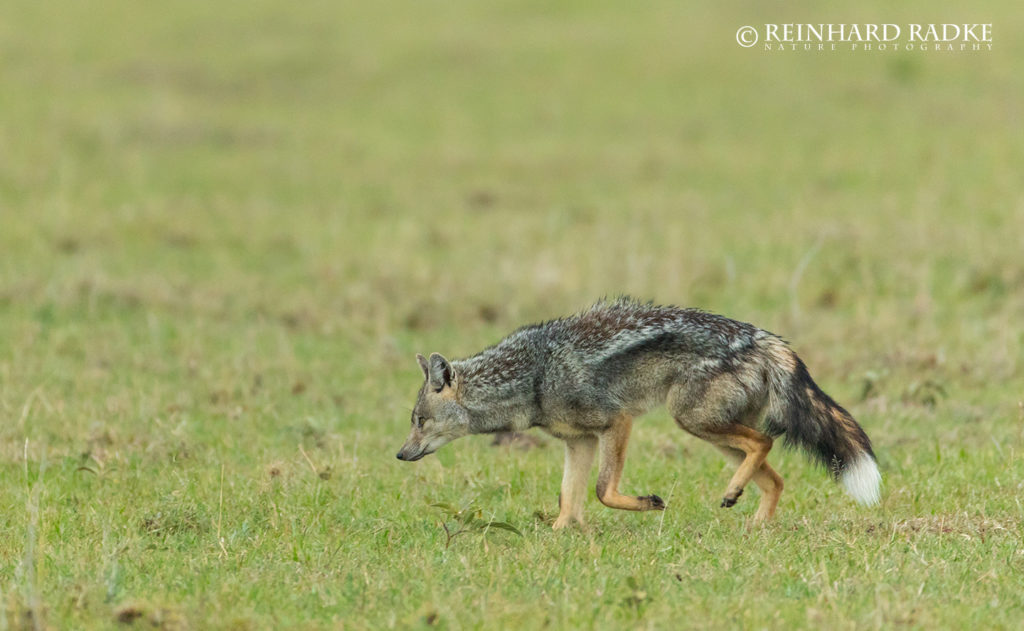 Side-striped jackal in the Maasai Mara. These jackals are rarely seen, as they are nocturnal. They are adapted to moister environments than the other two species.
Mehr zum Thema Studytours und Buchung