Wildlife Photography Tours
With Internationally awarded photographer Rahul Sachdev.
STUDYTOURS DATES 2022
June 14th to June 20th 2022 (few spaces available)
Nov 11th to Nov 17th 2022 (registration open)
ABOUT MARA
Kenya's Maasai Mara makes up the northern section of the Serengeti ecosystem. For thousands of years, Africa's most fascinating nature reserve has formed the backdrop for the spectacular wildebeest migration, the largest gathering of hoofed animals on Earth.
When the southern Serengeti dries up each year, hundreds of thousands of white-bearded wildebeest and zebras migrate north to the Maasai Mara, where they can still find good grazing conditions on the banks of the Mara River. As well as the breathtaking spectacle of the great migration, the Maasai Mara is home to an enormous variety of species that can be admired all year round. Impressive large animals such as elephants, giraffes and buffaloes share this thriving ecosystem with countless antelopes and gazelles. Significant numbers of lions, cheetahs and leopards that are becoming increasingly rare in other regions have managed to survive here. Some 500 bird species and various reptiles and amphibians serve as further examples of Africa's magnificent animal kingdom. The Maasai Mara offers nature-lovers a unique stage for fascinating wildlife observations and presents photographers and film-makers with a kaleidoscope of possibilities.
PROFESSIONAL GUIDANCE
RAHUL SACHDEV, a professional wildlife photographer and a Canon EOS Maestro will be your guide during these tours.
Rahul began his photography journey around 20 years back and has been visiting Mara for the past 10 years. Alongside winning many awards, Rahul also contributes regularly to magazines, writing about creative wildlife photography and usage of light. He has used the MATIRA CAMP as a base for most of his trips to mara resulting in a close partnership that now gives our guests the chance to experience Africa from a new and richer angle. With his enthusiasm and expertise, Rahul coordinates the evening workshops (creative wildlife photography) and provides professional support and guidance throughout the tour.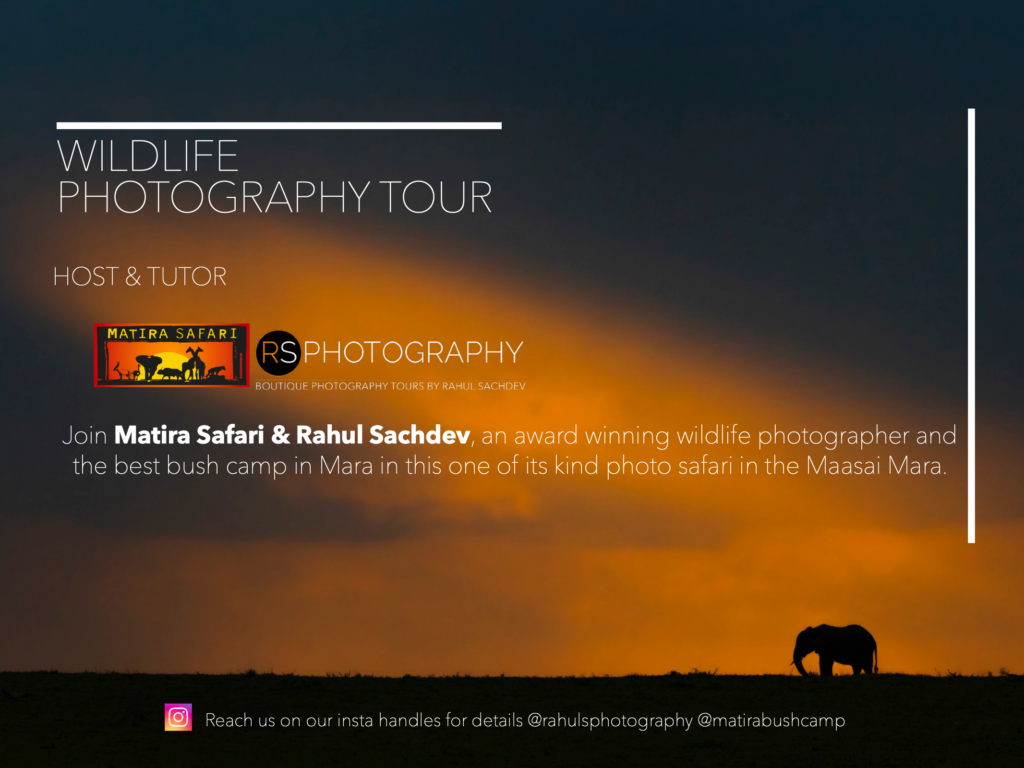 PROGRAM, DATES & MORE
Photography Study Tour
Day 1
Your safari starts in Nairobi early morning at your hotel from where we will pick you by our Matira driver. We are driving along the Great Rift Valley Escarpment to Maasai Mara.
Arrival late afternoon. After lunch we will talk with Rahul about the program for the next days before you start for your first afternoon gamedrive.
Dinner and first night at Matira Bushcamp.
(optional flight to Maasai Mara).
Day 2 – 6
The next few days are dedicated purely to nature and the animals and more so to usage of light and shadows.
We will set off on a game drive early in the morning with Rahul accompanying you in our Landcruiser. During a bushbreakfast in the open savannah, you will have the chance to share your experiences and enjoy the beautiful landscape. Depending on the animal activities that day. We will have lunch in the camp or in the African bush.
After an exciting day full of amazing impressions and experiences, you can build upon your acquired knowledge with an informative presentation by Rahul on a special subject related to shooting in the Mara and what to try in the coming days in terms of usage of light. In the photography workshops, Rahul will discuss photographic aspects of atmospheric pictures depicting behavior and action shots, as well as tips and guidelines about photo editing.
Day 7
Return to Nairobi: Today we leave the wilderness and take the plane in the morning back to Nairobi.
Upon arrival at Wilson Airport, you will be picked up and taken to the JKIA International Airport from where you will travel to your next destination or home.
We wish you a safe journey back home.
All accommodation incl. full board
Please contact us to set up your individual programme.
International flights to Nairobi are organized individually. We will gladly coordinate your stay  in Nairobi incl. the hotel of your choice and transfers.
We would also be glad to make arrangements for an extended stay or onward to your next destination.